Pepper Spray Guns use a unique delivery system to deliver the spray up to 25 feet in a continuous stream. The pepper spray gun uses the latest technology called Bag-In-A Can (Trade Mark) this alloys the liquid to spray much like your household aerosol. There is also one other major advantage to this delivery method and that is that it can be fired from any angle even upside down.  As you can see this is why the number one spot in our list goes to the pepper spray gun.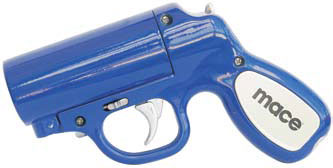 Pepper Spray Gun – Our Top Model
Our favourite model has to go to the Mace Pepper Spray Gun.  It has a trigger activated LED light, making for easier aiming, and if the LED light hits the targets eyes it disorientates them. Each gun is available in 4 colours and contains:
Pepper Spray Gun Dispenser
One 28gram 10% OC cartridge (up to 7 shots)
1 Test Cartridge (water filled)
1 set of batteries for the LED light
The pepper spray gun is rapidly becoming a firm favourite with the buying public because; it is accurate, easy to use, and affordable. We here at Redrock give it a solid 8/10.
We would really like to hear from you if you have recently purchased a pepper spray gun, how did you find it to use? Was it everything you expected?
By the end of the month we hope to have a video of the pepper spray gun in use, so keep checking back for that.